Posted in
"Why are you crying?" I asked him.
"I don't have a single new cloth for the Durga Pujo. Look at my shirt! So shabby, so grey. Will you ask
Mom to buy me a new shirt if I behave?
"Of course I will. But first stop crying."
It took him time to stop. My t-shirt soaked the large droplets of his tears. I promised to tell his mom that he wanted new clothes for Pujo.
As I ran down the stairs from the terrace, I asked him, "Any colour preference?"
He grinned. "Yessss. I want a blue and white checkered shirt."
His mom kept her word. The new shirt she bought him was a soft blue - milky white combination. He would take it out every now and then, try it, look into the mirror with great pride and keep it back in the cupboard. He waited for the Pujas to arrive.
He knew he would look handsome. He could foresee compliments flowing his way. "Look at the Autumn sky! So beautiful!"
******************************************
Durga Puja is not far away. While the sky can prepare to look all dashing in its new blue and white attire,let us plan our Puja too. (Let's also pray that he stays happy and bright throughout the four days in his 'Facebook colour' scheme. Bouts of his bad mood can make our pandal-hopping go for a toss!)In the midst of planning my festive season, I decided to take out a few ideas from my diary and share it with you all. It would be a lot of fun exchanging ideas, what do you say? You can pick and choose from mine with the promise that you will help me too if I fall short of them. Done?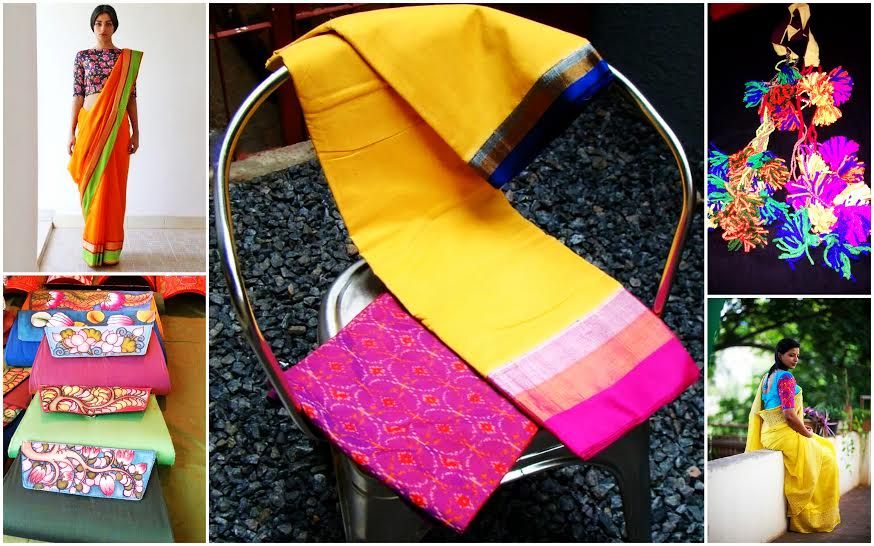 (Orange saree: Raw Mango, Yellow sarees: House of Tamara, clutches: Dastkar, Paranda: Byloom)
For Shosti, i.e the first day of the Puja, I have decided to wear bold colours, preferably one solid shade with a contrast border. By the grace of generous relatives and friends, I have managed a few for myself. Yellow-pink, Fuschia-royal blue and blood red-green. With single coloured sarees (with a contrast pallu), a dramatic blouse is inevitable for me. Rose print on a contrast shade, a Kutch work backless choli, multi-coloured geometric prints would offer the saree its breathing space. In case you choose not to experiment and make a blouse of the same colour as the pallu, you can add multicoloured latkans to the strings at the back, to add shades to the monochrome. If you ask me, I would like to tie a long braid and put a beaded Paranda I bought recently. Where the saree and jewelry are less dramatic, the right hair accessory can lift your look to a different level. Flowers too, do wonders. Instead of artificial hair jewelry, try natural flowers this Pujo. A big red hibiscus tucked in your bun will make a statement of its own.
Team up your entire look with the right hand bag and the right pair of shoes.
If you have read my earlier posts, you must have understood that I am a sucker of all things Desi; all things handmade. This Pujo, I bought a bunch of naturally dyed fabric with quirky prints to go with the single hued sarees. I have used different prints for the body and arms of the blouse. Kites, clouds, clothes-pegs, Guru Dutt-Waheeda have found their home in my wardrobe. Accessorised suitably, a single tone red Mangalgiri can get an instant facelift.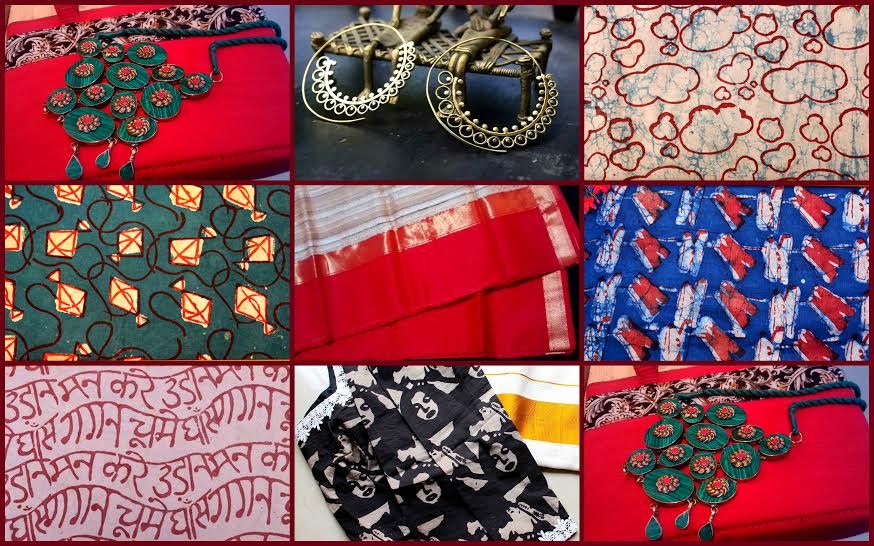 For Saptami, my choice would be Dhakai. Every Bengali women has atleast one Dhakai Jamdani in her wardrobe. I have heard people saying, "That same old Dhakai. Nothing new to look forward to." My advice: give the quintessential Dhakai saree a make over. I had bought a single coloured Dhakai for my sister in law. I had put a thin Benarasi border to the saree, stitched a contrast blouse and made her a matching batua from the left over material from the blouse. When she wore the saree, she made a very happy sight indeed! Why don't you try something similar for your wardrobe?
(Earrings: House of Tamara)
I will also tell you another story here. While browsing through materials in an upholstery shop in Park Street, I chanced upon some beautiful brocade silk. If they were made into cushion covers, the charges would be astronomical. But my eyes bled at the sight of such beauties. I bought 50 centimetres of one such fabric. I made it into a blouse (in the picture below).
This pujo, also try wearing your Dhakai saree with a skirt instead of the petticoat. Jamdani fabric being transparent, a multicolored long skirt would beautifully compliment it. Glances guaranteed!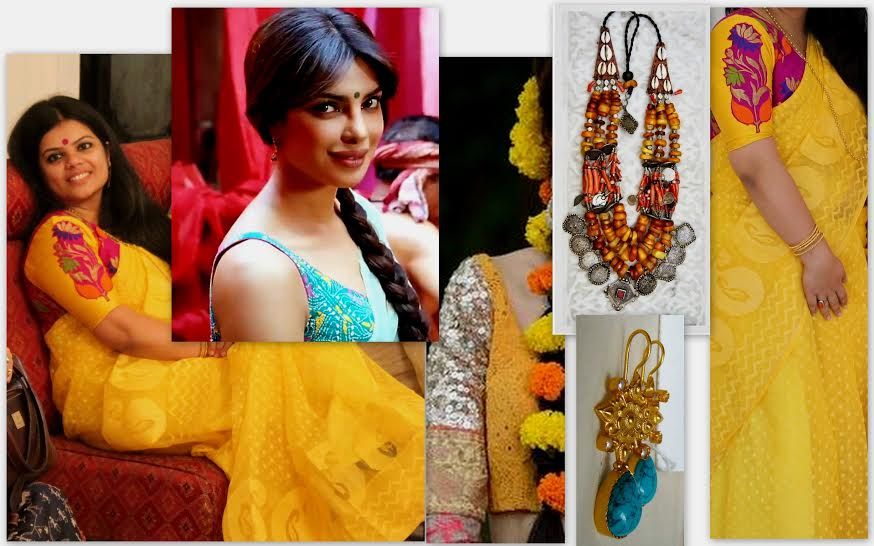 (Necklace: An Indian Summer, Earrings: House of Tamara, Still from Gunday: Google Images)
Let loose your imagination. Try something quirky. Try something different....may be like the one in the picture above. In Kolkata, these Kantha stitch blouse pieces are sold by street hawkers in Gariahat. Priced between 100 to 120 rupees, they are as ordinary as it can be. But then, look at Priyanka Chopra in the picture! The same piece of cloth when made into a right blouse turns outrageously sexy. Team it up with your Dhakai (like she did in the film, 'Gunday'). A total head turner, I tell you.
For Ashtamir Anjali, most women prefer to go traditional. "Lal paar saree" or white/beige saree with red borders are generally worn by married women during the pujas on the third day. I excavate my gold jewelry, shakha (conch shell bangles) and pola (coral bangles) from the locker and throw some light upon their otherwise gloomy existence. This year, I have gifted myself a beige Chanderi saree with broad pink and orange borders. A Benarasi brocade blouse coupled with traditional gold jewelry is what I plan to give it for company. On Ashtami, go OTT. For Puja, it is excusable.
(Bottom extreme right Saree and Jewelry: House of Tamara)
For the less traditional, I can suggest another look. A white cotton saree with Kalamkari/ Bagru fabric-petticoat and blouse. The print will show from beneath the almost-transparent saree. The right accessory will give finesse to the entire look. I have added a hand-painted Khadi silk clutch. It is one of my dearest buys this Puja.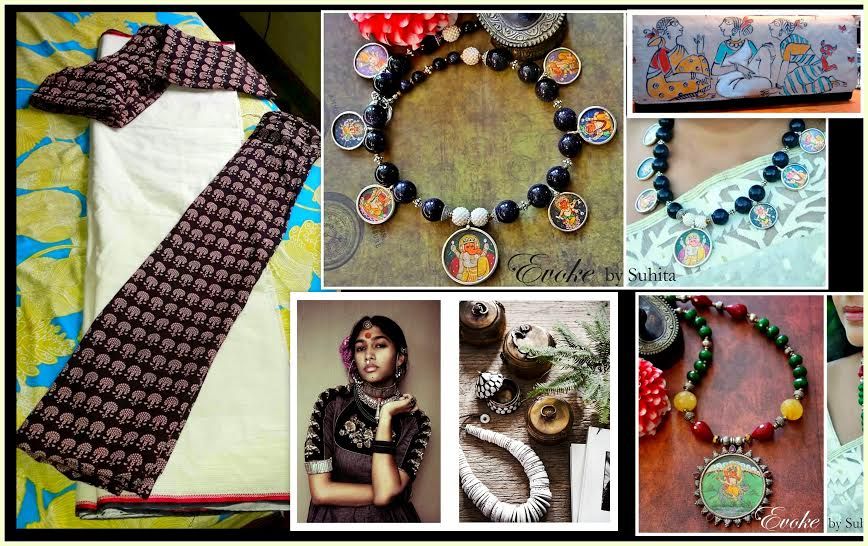 (Ganesha neckpieces: Evoke by Suhita, White neckpiece by An Indian Summer)
I love making sarees. You can make them too. An old Kantha stole, years ago, was made into a saree by adding silk fabric to it. Do you have such a kantha dupatta of which you've got bored? Stitch it with brocade, silk or any material of your choice and the desired length. Your DIY saree is ready. The Kantha portion acts as the pallu while from the additional cloth, pleets are folded. I am sharing with you photographs of two such 'homemade' sarees. Try them and let me know the end result.
Needless to say, I love wearing sarees. During the four days of the Puja, every other dress takes a back seat. But there are many who do not feel comfortable in a saree during pandal hopping. Here are some ideas for them as well. I loved these designs while browsing the official site of Arong, Bangladesh. So traditional, yet so contemporary. I love the colours too. Don't you?
The Durga Puja slowly approaches its fag end. Dasami marks the end of the festival with boron, snidurkhela and bhasan (visarjan). On this day, married women put vermilion on the God's forehead and on each other. In case you are wondering what these rituals look like, you may recollect 'Kahani'. That "famous last scene". Yes, it was Bijoya Dasami. And, red bordered white sarees are the most common sight on that day. This year, black and white checks just stole my heart. I made a saree for myself. I bought checkered silk and got the borders stitched. The pleets are of red Benarasi brocade (picture in the middle). You can make them too. You can also stitch multi-coloured borders to the fabric and the result would be as gorgeous as in the picture below.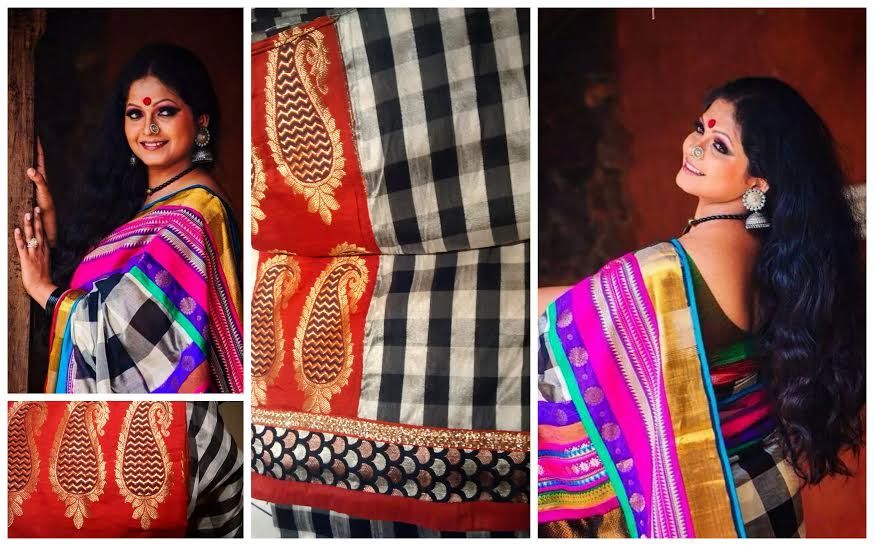 (multicolored bordered saree : Karmasuthra jewelery)
The age-old traditional Gorod can be embellished too with a Benarasi border, breaking its monotony.
You can have an idea by checking the picture below.
(neckpiece: An Indian Summer)
******************************
I loved writing this Pujo diary. Now it's your turn. What are you planning for this year's Pujo? Are you all set? Would love to hear from you.
P.S - Also let me know if you found my ideas useful. Will you?
P.P.S - Have a great Puja everyone. Hope the boy in his blue and white shirt smile on you throughout the festive season.
-------------------------------------------------------------------------------------------
"Love Imprinted" this column will include some random happy things jotted down by Parama. Ranging from DIY ideas, home decor ideas, fashion and food. In short, this column will make you smile for sure.
About Parama : "I am a lawyer by profession and work with one of the oldest and renowned law firms in India. In the midst of mergers, acquisitions, joint ventures, real estate and other things, life may seem a little black and white with a tinge of grey here and there. But I make up for it by adding colours of my own. I am a trained painter. I write and feel happy about it. Of the things I love writing about, Kolkata enjoys an unfaltering bias. I love making things out of recycling. A staunch DIY-er. Old lampshades often become flower vases and old whiskey bottles lampshades, coconut shells and hajmi-bottles becomes candles, sarees become curtains and stirrers jura pins.I feel, like music, food and love keep us alive. A vehement foodie and a die-hard romantic, I am. .I design jewelry as a part of my hobby. Turning day to day objects into a piece of jewelry is something that gives me endless joy.I sing. I am not a singer whom you call excellent or flawless. But I feel, if Nirvana can be achieved, it would be through Rabindrasangeet. I love to travel. Almost everywhere. The Kumayun fascinates me as much as Kumartuli. It's not about the place, but about the joy of exploring. Someday I wish to write a travel – book. And I will."