Submitted by
Khushboo
on Mon, 02/01/2016 - 16:27
Posted in
Exfoliation is one of the key factors to achieve young and healthy skin. It is a removal of dull, old, hardened skin cells so that new cells can come to the surface. Regular exfoliating routine will leave your skin smooth, soft and refreshing. There are 2 types of exfoliation, Manual and Chemical exfoliation. Manual/Physical exfoliation are scrubs which are slightly grainy in texture. They physically remove dead skin by abrading them away. Chemical exfoliation consists of natural substances such as enzymes or AHAs, they don't scrub the skin, instead they cause a chemical reaction and digest the dead skin cells. It is perfect for skin types that are very sensitive and also for the skin types which can't take the stimulation of physical abrasion.
Chemical peels can be of prescription strength which can be very strong and need to be administered by a dermatologist. Over the counter peels are also available which need no prescription. A third alternative is to make your own food enzyme peel which is mild yet effective. It can be made in your very own kitchen.
Fruits and Vegetables contain natural acids and enzymes that mildly exfoliate the skin and eat away the dead skin cells. I am a huge fan of mild chemical exfoliators derived from organic natural sources. Whipping your own fruit acid peel is perfect to re-texturize and revive dull sluggish skin.One of my favorite fruits/vegetables to make a DIY fruit based peel areTomatoes which are considered to be the panacea of the skin.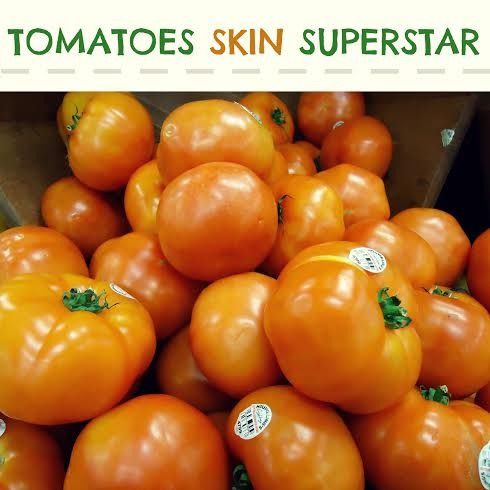 Tomatoes are one of the basic staples in every kitchen but are you aware of its beauty benefits. Natural acids, vitamins and minerals found in tomatoes deeply cleanse the skin and slough away the dead skin cells. They are rich in Vitamin A and Vitamin C which are known to brighten the skin. They also contain lycopene, a potent anti-oxidant found in red fruits which fight against free radicals and delay the signs of aging. They also help in treating dry, damaged and sun-burned skin.
In order to make this at home peel, you will only need a few basic ingredients
You will need:
- 1 tablespoon freshly squeezed tomato juice (remove the pulp)
- 1 tablespoon yogurt
- 1⁄4 teaspoon glycerin or raw honey
- Glass bowl
- Wooden spoon
Note:
- If you have dry skin, use glycerin.
- If you have Acneic/Oily skin you raw honey instead.
How to make:
In a glass bowl, mix everything together. Use the mask instantly. Always make a fresh batch for each use.
How to use:
Apply the mask evenly, to you clean skin. Avoid the areas around eyes and mouth. Leave it on for 10 to 15 mins. Wash off with lukewarm water.Refresh yourself with a splash of cool water. Follow with a toner and moisturizer. Use this mask once a week to see visible results.
Benefits:
- Boost radiance of the skin.
- Prevent excessive oil secretion
- Remove dead skin cells
- Treat blemishes
- Moisturize skin
- Natural bleaching agent
- Keep pores clear
I'm prone to Acne and have a very sensitive skin. When I first started using tomatoes in my facial mask, I was a little skeptical. After applying the mask I felt a stinging and itchy sensation but after 5 mins the sensation went away. My skin felt smoother, brighter and hydrated. Since then I use this mask often. Especially it has helped me in clearing my blemishes. Although I won't claim it as overnight remedy and the Acne marks don't straightaway diminishes, but I've seen positive results after using this peel. Patience and consistency is a must when it comes to natural beauty remedies. As with any nature based remedy, it is always advisable to perform a patch test to see for any allergies or sensitivities. I hope you will give this mask a try and love it as much as I do.
------------------------------------------------------------------------------------------------------------------------------------------
About the author: When I was in India, I was a Financial Service Consultant with the MBA degree, screwed up in a 9-­5 full time monotonus job. I got married and moved to USA in 2009. Most of us dream of that.But truly speaking the day I landed at LAX Airport I was not excited. I was only missing my family,relatives, friends. The flow of emotions were so intense that initially I used to feel, when will I go back..back to my country my people. I used to nag..nag a lot. Days passed and I realised thatthere is no way out and I have to stay here at least till my husband's project will continue.That wasthe peak time for me to decide whether to waste this time in nagging or should I make itworthwhile. When you are alone you get so much time to dip your hands in stuff you neverthought of, to understand that your life has a purpose. I got fascinated towards DIYs, healthyliving, crafting, writting and beauty which inspired me to pursue the esthetics course in and Ibecame a licensed Esthetician. I never thought of doing all this when I used to sit in a small bank cubicle. Few of my articles got published in the Indian magazine Woman's Era which boosted myconfindence and I stared blogging. Now every morning I wake up with a purpose,to learn, toshare. I want to learn and grow with each passing day and thats the aim of my life. Simple. Right!
About the column: Through this column I would like to share whatever I learn in the process of making my life better ( DIY beauty products, healthy tips, crafting, and much more). So stay tuned!